Live Music!
Midsummer Festival is known for all of the arts, including music! We have a great concert Friday night and then live music all Saturday afternoon.
Friday Night Concert with Nekita Waller
Florence Griswold Museum Lawn/7pm Concert/Friday, July 26
Nekita Waller, rocks the lawn as she and her band bring you Motown, Soul, Pop, and Classic Rock favorites as well as her own original music. Pack a picnic or enjoy dinner from the food trucks (5pm-9pm). Find a spot on the grassy banks of the Lieutenant River to enjoy this free high-energy concert by Connecticut's State Troubadour. Free Shuttle Bus Service between Florence Griswold Museum and the Bowerbird at 46 Halls Road between 4:15-9:30pm. Concert sponsors are All Pro Automotive and Benchmark Wealth Management. (photo by Jessica Hill)
Saturday Young Artists Concert
Saturday LYMESTOCK Concert
Saturday, July 27/12pm-3pm, Florence Griswold North Lawn
LYMESTOCK is back!! Seven different musical acts will provide great afternoon entertainment. Bring a chair or blanket and listen to the talented lineup presented by MusicNow Foundation. The afternoon will be filled with folk, blues, jazz, singer/songwriter, and acoustic rock. At time of writeup, lineup includes:
12:05 pm: Reno Hanlon
12:20 pm: Welcome to Space
12:50: Sophie Spaner
1:25: The Moon-Spinners Trio
2:05: Cat & Sophia, with special guest Grace
2:30: Local Honey
3:05: Forever Fool/Colin McGrath/States Apart Finale
Mass-Conn-Fusion on Saturday
Old Lyme Inn, Saturday, July 27/11am-2pm
Mass-Conn-Fusion is back under the tent at the Old Lyme Inn. Enjoy some food from the OLI Grill and add the funk of this perennial favorite at the Festival. The band has an extensive repertoire featuring Motown, R&B, Funk, along with hits of the 60's right up to the present. (Photo by Tyron Jamison)
Acoustic Music in the Sculpture Garden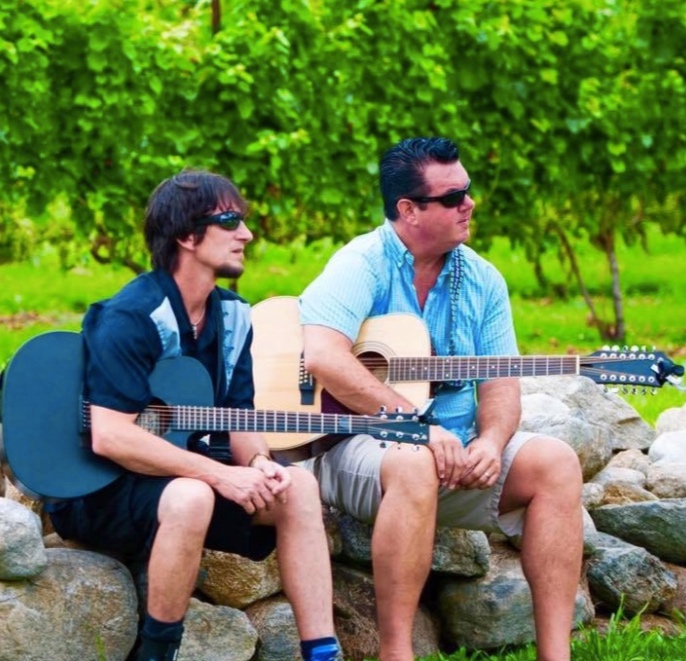 Dr. Jekyll & Mr. Hyde Acoustic Duo
Studio 80 Sculpture Grounds, Saturday, July 27/4-5pm
Wrap up your afternoon with the acoustic duo John Martorell and Mike Cartwright aka Jekyll & Hyde. These two talented musicians will delight with their skilled acoustics and engaging vocals.